Impact Level 5 Access Requirements¶
Impact Levels (ILs) are Department of Defense (DoD)-established categories that designate the level of information sensitivity and access. As the numeric value of an IL increases, so does the level of security.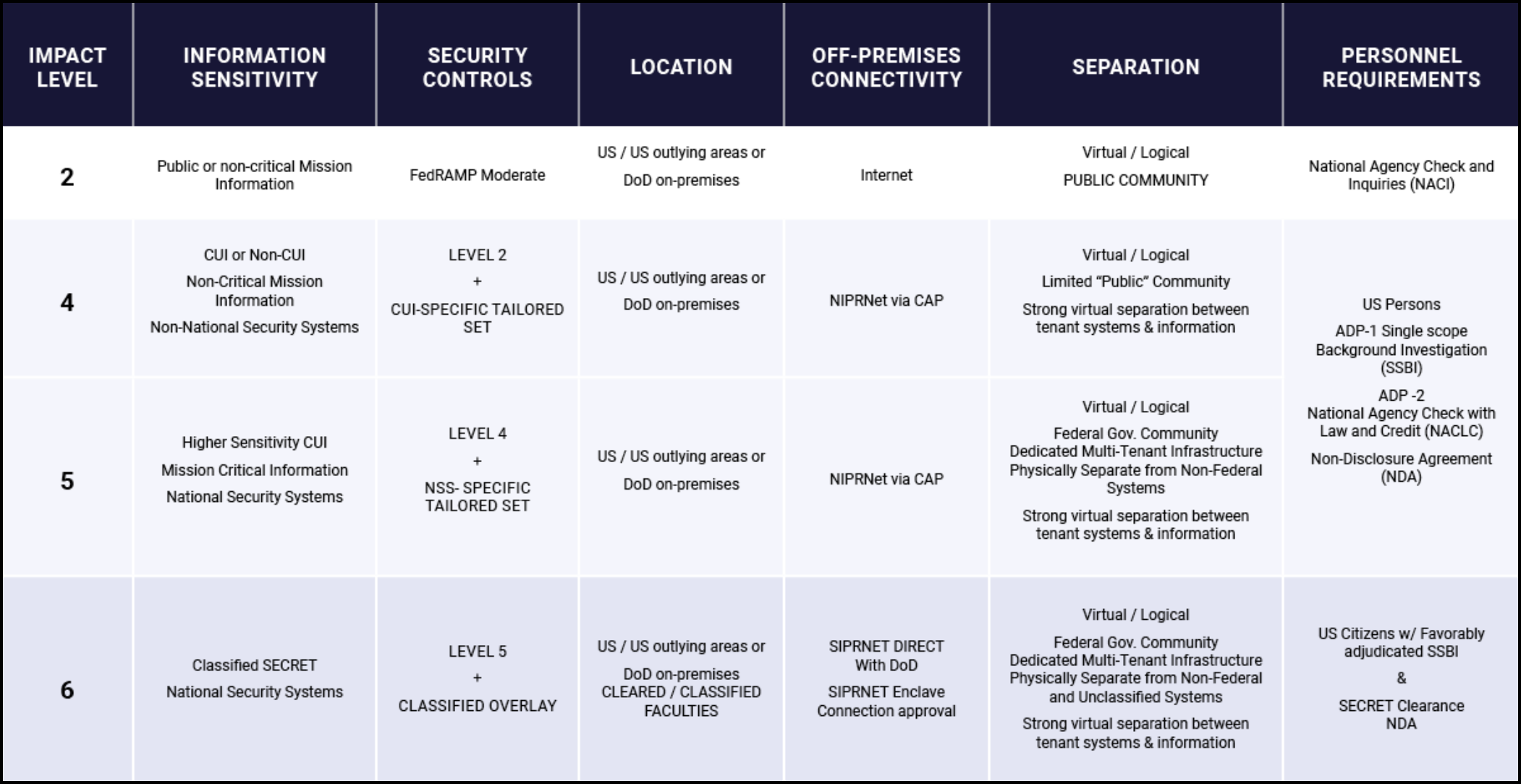 Content Resource
The image above appears on the Second Front Systems, Inc. website. For additional information, read DoD Impact Levels.
Impact Level 5¶
IL5 includes higher sensitivity Controlled Unclassified Information (CUI), Mission-Critical Information, and information specific to National Security Systems (NSS). You must satisfy certain requirements to access this IL and deploy applications.
Important
The Compliance Requirements section below references links to Platform One articles that you must read to gain a complete understanding of the IL5 access requirements. More specifically, this required reading material resides in an IL4 environment. Therefore, you must have IL4 access, and you must have a government access card such as a Common Access Card (CAC), External Certification Authority (ECA), or a Personal Identity Verification (PIV) card. Without these IL4 credentials, you will be unable to access the reading material hosted in IL4. The IL4 documentation provides insight that you must leverage to ensure alignment with the IL5 compliance requirements. Adherence to these requirements allows you to proceed to IL5 and deploy applications.
Compliance Requirements¶
To obtain IL5 access, you first must navigate to the Platform One sites referenced below and comply with the instructions on each:

After you satisfy the above-mentioned compliance requirements, you will be eligible for IL5 access. Other configurations will be required. For example, our engineers will need to ensure you have been added to the appropriate application groups.
If you have questions or need additional information, contact our Customer Operations team via Slack for guidance.